Parent Communication: Key for Supporting a Strong School Community
January 2021
---
Relevant Research
"Students whose parents receive regular and personalized messages with actionable information from teachers are more likely to succeed in school. But effective data-sharing programs require more than simply sending data home. They also encourage educators and families to make connections with each other, sharing observations about how a child performs and behaves in different settings. They put the data in context, helping families understand how their child's performance conforms to expectations for children at that age or grade level (Journal of Economic Education, 2018)."
Child Assessments: Sharing Students Knowledge with Parents
As we approach the halfway mark of an unprecedented school year, schools can start planning the best way to inform families of their child's progress. The middle-of-year (MOY) assessment data can be used to inform families and offer ways to support their children at home. Sharing data in an engaging way with families can become part of a school's family engagement plan. There are multiple targeted tools and resources to update families on their child's progress that teachers and administrators can use.
Building positive relationships and connecting regularly with families is the foundation of all family engagement efforts. Parents and guardians should be regularly informed of how their children are progressing and provide concrete ways they can support their children in key learning areas. Without positive relationships, teachers and parents may struggle to partner together successfully to support children's learning. Despite this, most teachers are not formally trained in techniques to build relationships with families. Nonetheless, exposure to tips and information in this area can help all teachers shift from working for families to working with families.
Sharing Assessment Results Using the Student Report for Parents
The CIRCLE Progress Monitoring (C-PM), Texas Kindergarten Entry Assessment (TX-KEA), Texas Primary Reading Inventory (TPRI), and El Inventario de Lectura en Español de Tejas (Tejas LEE) are validated assessment tools housed on CLI Engage. These assessments provide comprehensive reports, including one for sharing assessment results with families, called the Student Report for Parents.
Teachers and administrators can use this tool with families to openly communicate, and share observation and assessment data results on the student's skills. The information provided in the report allows families to gain an understanding of the skills being taught in the classroom. It also provides activities families can do at home to support targeted skill areas.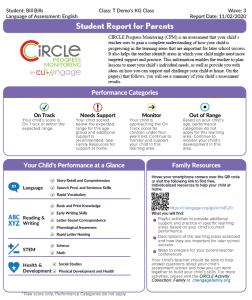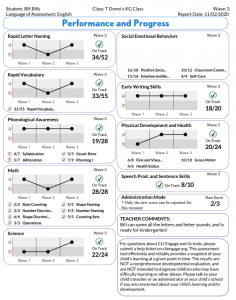 Supporting teachers in using this report to keep families informed encourages family engagement. There are several options teachers can use to share the report:
Parent Reports may be printed and sent home,
Reviewed during a parent-teacher conference, or
Shared with parents to access the results online using a Personalized Identification Number (PIN).
 Encourage Family Engagement with Data
Parents will often be more invested in assessment results if they understand why these skills and development areas matter for their child's future success. Explaining that everything we teach and assess has a purpose and helps build or develop a future skill is critical. Therefore, teachers should spend some time making the results realistic and relatable to the family's daily lives and their child's future.
Partner with Families to Set Clear Goals
There are multiple benefits to collaborating with families, sharing student progress, setting clear goals, and creating action plans for how to support their child's learning at school and home.
Benefits for the school community:
Increases family engagement
Helps families actively participate in decision making
Helps promote two-way conversations between school faculty and families
Sets the tone for everyone to feel supported
Helps to delineate specific expectations for families and the school
Benefits for the families:
Gives families a voice
Helps families understand their child's development
Identifies ways families can best support children at home
Benefits for teachers:
Allows teachers to gather useful input from families
Assists in building strong relationships with families
Parent Conferences and Using the Family and Teacher Student Goal-Setting Form
Teachers can set up individual parent conferences to discuss assessment results and use the Family & Teacher Student Goal-Setting form that targets specific skills a child is struggling to master that both the family and teacher want to focus on. After deciding together which skills to focus on, both families and the teacher can list what they will do to help the child master these specific skills. When parents take part in making decisions, they may become more invested in doing activities at home, which supports the teacher in targeting a specific skill.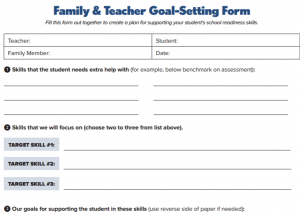 Host a Virtual Data Night to Explain Assessment Reports
While new guidelines limit the way we gather and interact in groups, it is important to build a supportive community that engages families as partners. Hosting a virtual family event or data night where teachers can invite the families in their classroom to learn about assessment reports. Discussing assessment results can help build engagement and understanding by remotely offering guidance and providing families with ideas or resources they can use at home.
By making data accessible, understandable, and actionable, we consider and address families' unique needs. Giving families access to training can help build community partnerships as well as professional capacities for teachers. Sharing data with families can be done in a fun and engaging way. Encourage your teachers to get creative with data-sharing by integrating it into family engagement events.
To assist in making family activities and events playful and fun, teachers can remotely use the resource Teaching Together workshops series. This workshop series includes interactive learning experiences, hands-on activities, and other free materials to encourage literacy development for children and their families. These workshops can be delivered by teachers, family facilitators, organizations, community volunteers, or community advocates to meet young learner's early literacy needs.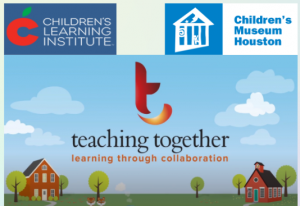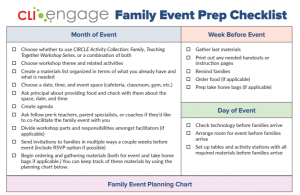 Reference
Smith, B. O., White, D. R., Kuzyk, P. C., & Tierney, J. E. (2018). Improved grade outcomes with an e-mailed "grade nudge". Journal of Economic Education, 49(1), 1–7. https://eric.ed.gov
---
Teaching Tips
Family Engagement Resources Webpage
In an effort to support families' understanding of children's development, CLI has developed a Family Engagement Resources webpage. These resources include engaging, fun, and developmentally appropriate activities that not only build skills but also strengthen the bonds between family members.
Steps for Communicating Data in Family-Friendly Ways
In addition, CLI has designed a tool to assist in setting up and conducting parent-teacher conferences where data is communicated in family-friendly ways.
Infant and Toddler Milestones
Developmental milestones can help families become aware of what skills are expected at what ages and acknowledge what the child is accomplishing.
PALS Spotlights
Play and Learning Strategies (PALS) is a research-based program that helps parents of infants, toddlers, and preschoolers in supporting their children's social-emotional, cognitive, and language skills.
Family Observation Forms
Teachers can share these feedback forms with parents to collect information on a child's development in key school readiness areas.