Best Practices for Remote Assessment Administration
October 2020
---
Relevant Research
Few of us are experiencing predictability during these unpredictable times in education and life. However, as we approach assessing our students remotely, we can put practices and procedures in place that will create some predictability and a level of comfort for our families and students. Proper planning will ease many of the stressors that may arise from assessments, which will assist us in monitoring student progress while they are learning at home.
Sustaining remote learning is not something most of us have ever had to do. While we are all working diligently to create best practices to support remote learning, we must carefully prepare while remembering to maintain a healthy dose of compassion toward ourselves, our families, and our students.
Preparing Yourself: 
Teacher's Guides for remote administration of CIRCLE Progress Monitoring, Texas Kindergarten Entry Assessment, TPRI 1st grade, TPRI 2nd grade, Tejas LEE 1st grade, and Tejas LEE 2nd grade help teachers by providing tools for preparing for assessments with families. Each guide includes helpful resources and specific information related to the assessment systems on CLI Engage.
Teacher's Guides for remote administration include:
Sample email for initiating contact with families about progress monitoring
Teacher checklist for preparing to assess remotely
Family-friendly language describing each measure being assessed and why it is assessed
List of minimum technology and materials requirements for families
Preparing with Families: 
Mutually supportive relationships with families have always been a critical part of education. Now, more than ever, we realize that nurturing these relationships must be a top priority as we rely upon members of families to step into the role of being our co-teachers at times. Even when families are well versed in the goings-on of traditional school-based education, the home learning environment requires they know even more about the intricacies of teaching and learning. Progress monitoring assessment is a perfect example of this.
Families may not be aware that teachers design instruction around the information they have obtained from these assessments. In the remote assessment and teaching cycle, teachers can best support the child's learning at home by knowing exactly what the child needs to learn.
Touch base by phone before the remote assessment visit: Relationship-building can begin with a quick phone call. Before the assessment, simply check in on your student and his or her family. Be mindful that families are feeling especially vulnerable right now. Let them know you will be scheduling a tech-check and assessment visit shortly, but this phone call is about checking in on their well-being.
Explore and explain options: Without making any assumptions about family preferences or capability, explore the available options for video visits or phone contacts for assessment. Explain how each option could work and paint a picture of what it might look like. If the parent is interested, share a link to the CLI Engage remote assessment video so he/she can watch an example of a remote assessment being delivered. When using this video as a tool to prepare parents, we suggest you begin after the teacher navigation section at the 28-second mark. Be sure to invite the parent to ask questions, share any worries, and think through the possibilities with you.
Explain the assessment: Explain each assessment in family-friendly terms as outlined in the teacher guides. Let the family know the purpose and value of assessing are so you can teach their students new skills, not teach what they already know. Then you can help them in spots where they need more practice and understanding.
Explain the role of the family:  Ask families to help by defining a space in the home that is quiet and conducive for learning. They will also need to assist with positioning their child's device and ensuring the volume level is appropriate. The family's only role in support of the assessment delivery is to help their child stay on task, repeat their child's response to you when necessary, tell you the item their child selected if there is more than one choice, and assist with technical issues when they arise.
Schedule a tech-check: Meet with the family several days before the visit to test the required technology. Remember, not all families will have a home computer and may not have access to Wi-Fi. Explore your district approved options and explain these options to families. Bandwidth and data issues will certainly arise for some families. You may need to schedule your assessment visit at a time when siblings are not doing their on-line learning. Remember, any assessment on CLI Engage can be administered virtually if the family has a smart-phone and the link for the web-conferencing tool you will be using.
Preparing with Students:
Visual supports prepare students for situations they are unfamiliar with. Visual cues and simple language provide children with the information they need to help them understand what is expected of them. A brief review of a visual schedule, rebus, or social story before assessing your students remotely can also reduce anxiety and promote positive behaviors by conveying to students what is happening "now" and what is going to happen "next". It is helpful to revisit the visual cues at any time during your remote session when a particular behavior is desired. The visuals serve as reminders for verbal directions and are a quick and easy reference tool for helping students understand exactly what your expectations are as you assess them remotely. Set students up for success before assessment with CLIs visual schedule in both Spanish and English.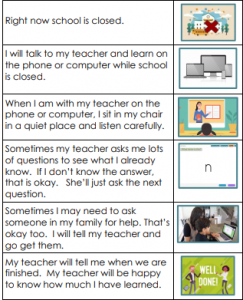 Video priming is also a tool used to prepare students for unfamiliar upcoming events (Schreibman & Whalen, 2000). A video of what a particular activity looks like offers a level of predictability and will likely relieve any stress or anxiety related to what is unknown. Video priming can be used to help students understand what is expected of them when particular positive behaviors are referenced before, during, or after viewing the video. Teachers can use video priming as an effective strategy before assessing by referencing the remote assessment video on CLI Engage, which shows a student, teacher, and parent engaged in the remote assessment process together. When using this video as a video priming tool for students, begin after the teacher navigation section at 00:28.

Reference
Schreibman, L. & Whalen, C. (2000). The use of video priming to reduce disruptive transition behavior in children with autism. Journal of Positive Behavior Intervention, 2, 3-12.
---
Teaching Tips
Other visual supports and narratives for families are available from the National Center for Pyramid Model Innovations (NCPMI). Find social stories such as Why Can't I Go to School? and ¿Porque no puedo ir a la escuela?
When conducting timed tasks remotely using the CIRCLE Progress Monitoring System, creative solutions can overcome technical delays. Some teachers have experienced web connectivity issues causing delays when assessing the Rapid Letter Naming and Rapid Vocabulary Naming measures via web conferencing tools. This "lag time" may impact student scores for assessments that are timed. When using these alternate methods of assessment, teachers will be able to use this data to meet the learning needs of each student.
Additional creative solutions save effort when remotely assessing TPRI with 1st grade students. Traditionally, teachers are asked to print and cut out the task-boards as well as the letters for students to manipulate for the 1st grade Graphophonemic Knowledge tasks. Due to this proving to be a heavy burden on teachers and families alike when administering these tasks remotely, CLI has created a simple PDF version that includes the task boards, letters, and scoresheets. For remote administration, teachers share their screen with the child to see each board individually and the child can respond with the letters needed to create words.
---
Recommended Resources
Resources from Notable Organizations:
Resources supported by the Children's Learning Institute: